Zet Astrology Software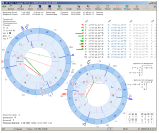 I've been a big fan of the Zet free astrology software for 5 or 6 years now. The first time I tried it was version 7, and it's now up to version 9.
The free versions allow you to run natal and predictive horoscopes, but you can only read them online. The print capability is disabled.
I've always gotten a kick out of reading my predictions. But I just tried the natal report for version 9 the other day, and I was blown away!! It was amazing how accurately it described me. (Of course, I won't tell you what it said…)